Docking your boat in style and safety has never been easier than with our modular pontoon marina docks. With a focus on both functionality and aesthetics, our docks offer the perfect combination of form and function.
If you're looking for a sturdy, functional, and aesthetically pleasing dock, look no further than our modular pontoon marina docks. Our docks are designed with both functionality and aesthetics in mind, ensuring that you can dock your boat in style and safety.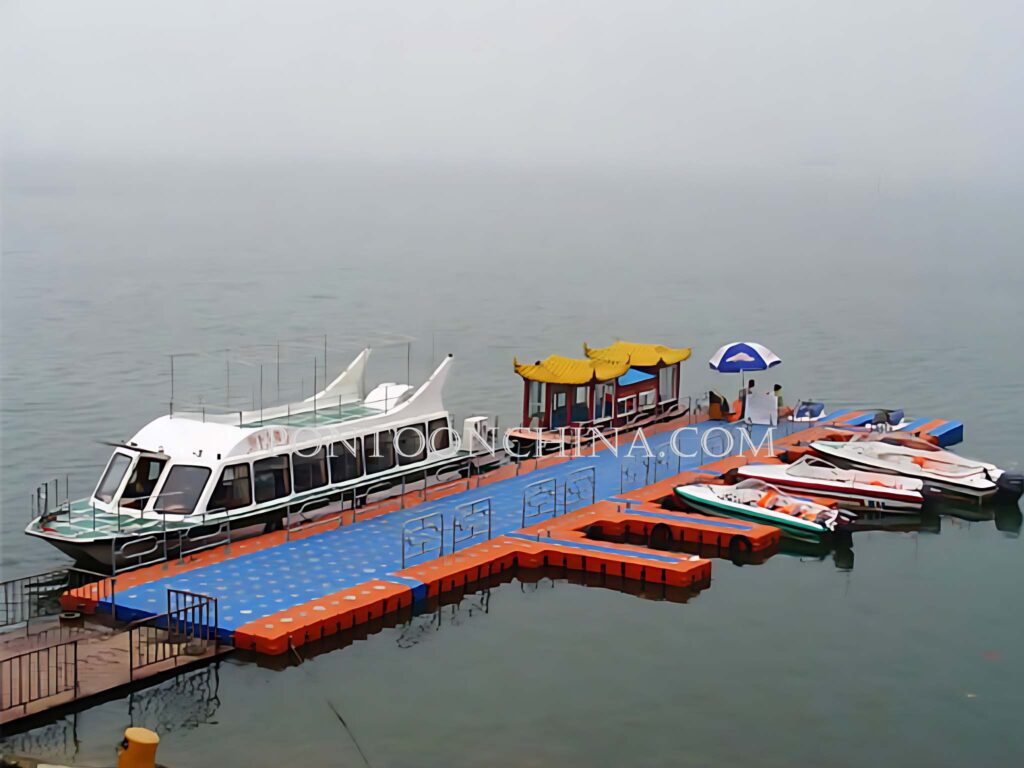 Aesthetics of Modular Pontoon Marina Docks
When it comes to docking your boat, safety is always a top priority. However, aesthetics are also important, as the appearance of your dock can greatly enhance the overall look of your property. Our plastic dock blocks are designed to not only provide a safe and sturdy place to park your boat but also to enhance the aesthetic appeal of your waterfront property.
Style and Design Options
We understand that every property and every boat owner has unique needs and preferences. That's why we offer a variety of styles and design options for our modular docks. Whether you prefer a sleek and modern look or a more traditional design, we have options to fit your style.
Colors and Finishes
To further customize the appearance of your dock, we offer a range of colors and finishes to choose from. Whether you want your dock to blend in with the natural surroundings or stand out as a bold statement piece, we have color and finish options to fit your vision.
Lighting Options
When contemplating dock enhancements, one must consider various options to create an aesthetically appealing and secure environment during both day and night. As such, our company offers a range of lighting solutions to ensure visibility and safety at all times, without sacrificing visual appeal. These solutions include solar-powered LED lights and traditional wired lighting systems.
Accessories and Add-Ons
To further enhance functionality and convenience, we provide various floating dock accessories and add-ons, such as boat lifts, jet ski docks, and swim platforms. Regardless of one's boating needs, we have customizable options to maximize the potential of your dock.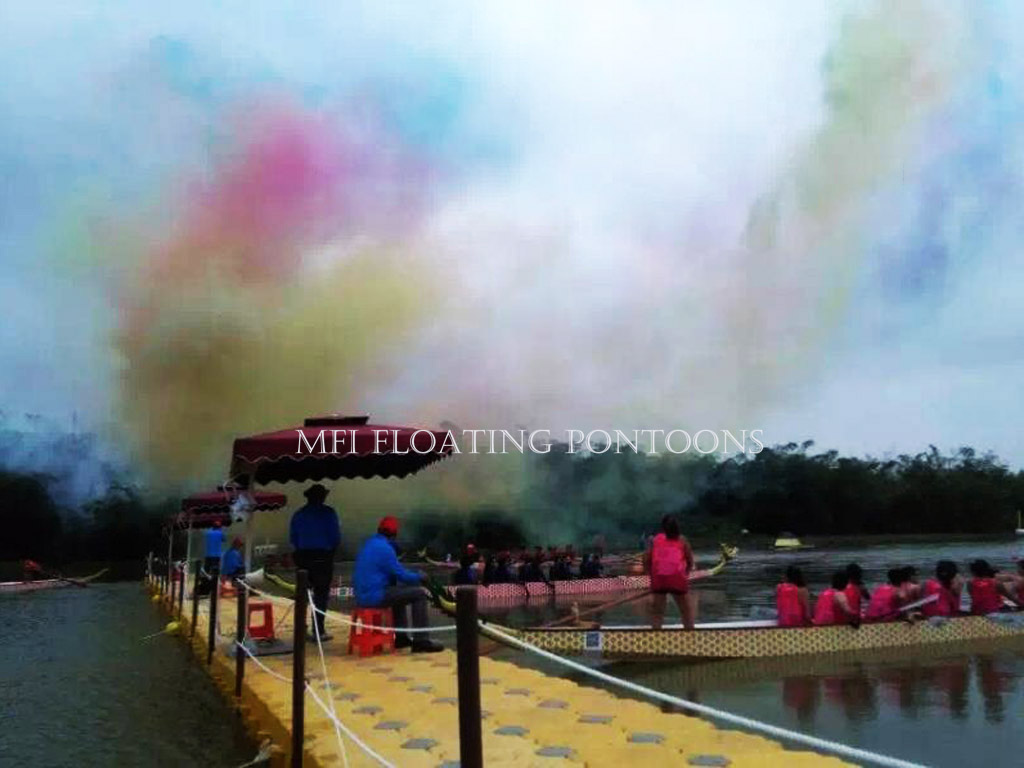 Benefits of Using Modular Pontoon Marina Docks
Cost-Effectiveness
The employment of modular marina docks grants a plethora of perks. The most noteworthy advantage is their cost-effectiveness. In contrast to conventional wooden docks, our modular docks are fashioned from durable materials that entail less upkeep and possess an extended lifespan. Ergo, investing in a marina dock could mean saving a substantial sum of money in the long term.
Environmentally-Friendly
Our company takes pride in prioritizing sustainability and limiting our ecological footprint. For this reason, our docks are constructed from environmentally-friendly HDPE materials that are designed to remain intact for many years without causing harm to the environment. By choosing an HDPE plastic dock, you can relish your aquatic activities without feeling anxious about your environmental impact.
Low Maintenance
A further benefit of employing a modular pontoon marina dock is its minimal maintenance requirements. Our docks are meticulously crafted to endure the elements and necessitate negligible upkeep. This translates to more time spent enjoying the pleasures of boating and less time fretting over dock maintenance.
Longevity
Unlike traditional wooden docks, which can rot, warp, and decay over time, our modular pontoon marina docks are built to last. With their durable materials and sturdy construction, our docks can provide many years of reliable use, making them a smart long-term investment for boat owners.
Versatility and Customizability
One of the biggest advantages of using a floating pontoon marina dock is its versatility and customizability. They can be configured to meet your specific needs, whether you need a small, simple dock or a larger, more complex one. With a wide range of customization options available, you can create a dock that perfectly fits your boating lifestyle and preferences.
How to Choose the Right Modular Pontoon Marina Docks
Size and Shape
Selecting the appropriate size and shape for your marina dock is crucial to ensure it fulfills your boating requirements. Take into account the size and type of boats you own, as well as the available space in your marina or waterfront property. Our modular docks can be customized to fit your specific requirements with a wide variety of sizes and shapes available.
Weight Capacity
When selecting a modular pontoon marina dock, weight capacity is another important consideration. Ensure you select a dock with a weight capacity that can handle your boat(s) and any additional equipment or accessories. Our docks are designed to handle a wide range of weight capacities, from small boats to larger yachts.
Water Depth
Water depth plays a pivotal role in determining the ideal modular pontoon marina dock for your waterfront property. The fluctuation in water levels owing to tides or storms is a crucial factor to consider when choosing a dock that suits the water depth at your location. Our expert team can aid you in selecting a suitable dock that is appropriate for the depth of water.
Climate and Weather Conditions
The climate and weather conditions in your vicinity can significantly affect your selection of a modular pontoon dock. If you reside in an area with high winds or heavy rainfall, you may require a dock that is engineered to endure such severe conditions. Our experienced team can assist you in identifying a dock that is suitable for the weather conditions prevailing in your area.
Personal Preferences
Consider the style, color, and accessories you want to add to your dock. Our modular docks offer a wide range of customization options so that you can create a dock that perfectly suits your personal style and boating needs.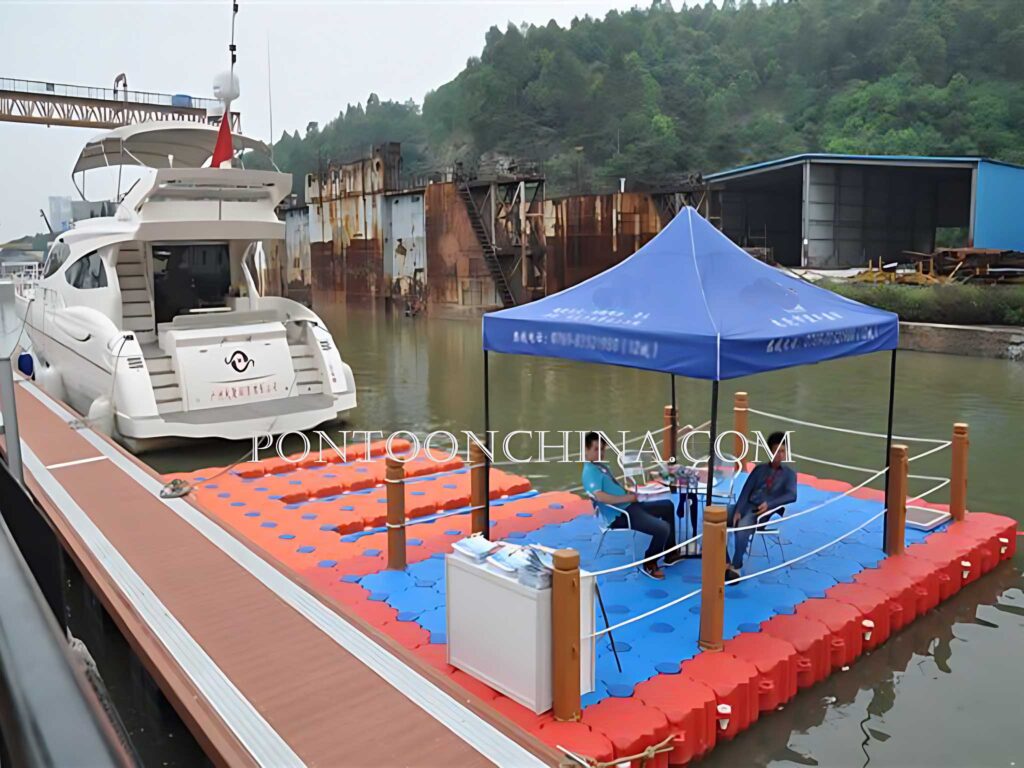 Installation and Maintenance of Marina Dock System
Installation Process and Requirements
The installation process of modular pontoon marina docks can vary depending on the specific type and design of the dock. It's important to consider the requirements of your marina or waterfront property, including any permits or regulations that may be necessary for installation. Our team can assist you in the installation process and ensure that all requirements are met.
Maintenance Tips and Recommendations
Proper maintenance is crucial for the longevity and functionality of your marina dock. Regular inspections, cleaning, and repairs can help extend the lifespan of your dock and prevent any potential safety hazards. Our team can provide you with maintenance tips and recommendations to ensure your dock remains in top condition.
Cleaning and Repair Procedures
In addition to regular maintenance, it's important to know the proper cleaning and repair procedures for your modular dock. This includes removing debris and inspecting for any damages or wear and tear. Our team can provide you with the necessary procedures and resources to keep your dock in excellent condition.
Customer Reviews and Testimonials
Feedback from Happy Customers
Hearing from other customers who have purchased and installed our modular pontoon docks can give you a better idea of the quality and functionality of our products. We're proud to have received numerous positive reviews and testimonials from satisfied customers who have experienced the benefits of our docks firsthand.
Jiantao Woo, Manager of Wutong Marina, shared his experience with the Modular Pontoon Marina Docks. "I just get the floating dock done with a modular pontoon system, I couldn't be much happier with the results. The dock is not only functional and sturdy, but it looks great too. I would highly recommend their modular pontoon docks to anyone they are in need of a reliable marina docking system."
Examples of Successful Dock Installations:
Seeing our floating marina docks in action can provide you with a better understanding of how they can enhance your waterfront property. We have a variety of examples of successful dock installations that showcase the functionality, versatility, and aesthetics of our products.
A rowing dock for African Racing was designed and installed that accommodates their specific usage needs. The modular dock system has been a reliable and sturdy solution, and the organizer has since recommended the modular Docks to other waterfront property owners in the area.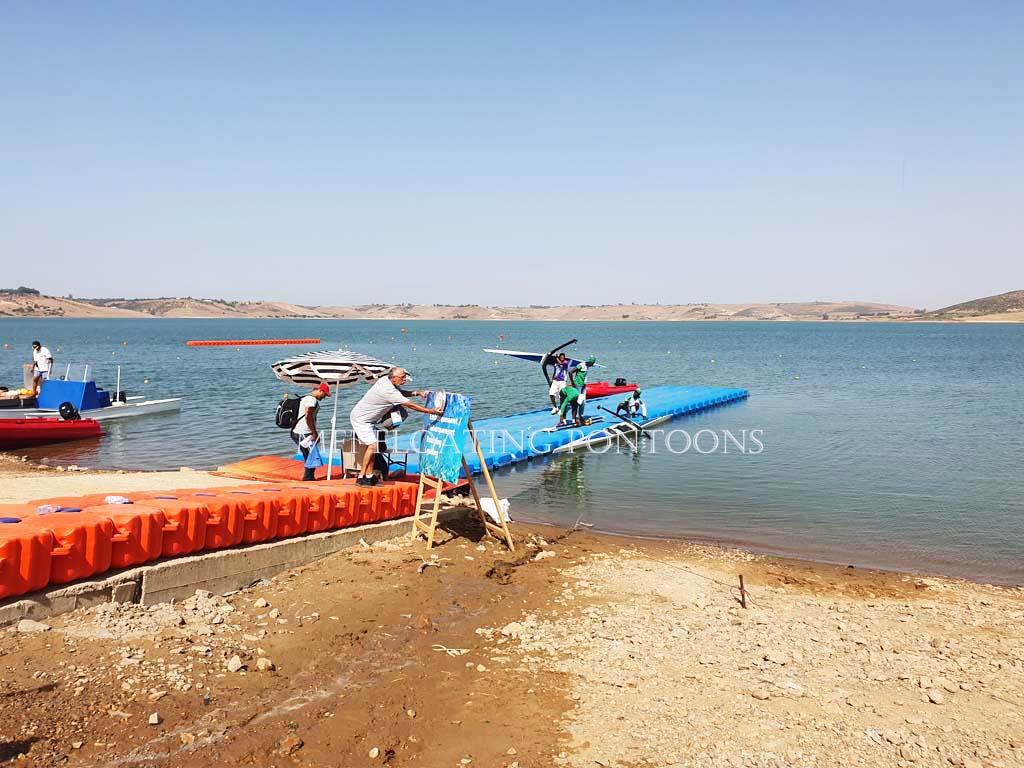 Benefits of Choosing Our Modular Pontoon Marina Docks
Choosing the right marina dock can be a daunting task, but our modular pontoon docks offer numerous benefits that set them apart from other options on the market. From cost-effectiveness to customizability and low maintenance, our docks can provide you with a reliable and long-lasting solution for your marina or waterfront property.